Guy's and St Thomas' Charity is working with Southwark Council to tackle the main health challenges facing Southwark and have funded three low traffic neighbourhoods (LTNs) in the borough. The joint programme includes the North Peckham LTN trial and enables people to exercise locally and travel sustainably, while social distancing. The trial LTNs will reduce driving and increase walking and cycling in the area in order to help deliver improved physical and mental health for those of greatest need.
Each LTN, including the North Peckham LTN, is centred around a school, as a key focus of the Guy's and St Thomas' programme is reducing child obesity and improving air quality. These measures are temporary, so if you enjoy the effects you need to show your support! Learn more about the scheme and how to support it!
What can I do to support the scheme?
Get in touch with local residents who support these changes at northpeckhamLTN@gmail.com!
The council is collecting feedback on their Commonplace map. You can share your thoughts there and agree with others' comments.
If you like the scheme you should also contact your councillors, cabinet members and MP to let them know. Here's a template you can use to get you started.
To: Barrie.Hargrove@southwark.gov.uk; Cleo.Soanes@southwark.gov.uk; Johnson.Situ@southwark.gov.uk
cc: catherine.rose@southwark.gov.uk; johnson.situ@southwark.gov.uk; radha.burgess@southwark.gov.uk; kieron.williams@southwark.gov.uk; highways@southwark.gov.uk; harriet.harman.mp@parliament.uk
Catherine Rose is the Cabinet Member for Leisure, Environment and Roads. Johnson Situ is the Cabinet Member for Climate Emergency, Planning & Transport. Radha Burgess  is Deputy Cabinet Member for Low Traffic Southwark. Keiron Williams is the Leader of the Council. Harriet Harman is the MP for the area.
The council will also hold community meetings about these schemes and it is very important for supportive residents to attend. If you want to receive updates from Southwark Council about these and other news, sign up here.
What is a low traffic neighbourhood?
A low traffic neighbourhood is a network of streets from which "through" motor traffic has been removed – this means traffic travelling through an area, not accessing a residence inside it. It is usually a whole area, bordered by A-roads, railways or other boundaries, rather than one or two streets. Every street is still accessible by vehicle, but barriers like bollards, planters or 'camera gates' prevent vehicles taking a short cut across the area.
The benefits of low traffic neighbourhoods
They make walking and cycling much safer, easier and more enjoyable. Motor vehicle traffic is the biggest deterrent that prevents people from cycling.
All streets are still accessible for residents with cars, deliveries and visitors. You may just have to take a slightly different route.
Emergency services and waste collection will still have access like before. Emergency service response times are not negatively impacted by LTNs.
Walking and cycling improvements are good for business.
Improve air quality and road safety. This is particularly important for children and the elderly
If you'd like to read more, see our All About LTNs guide.
How does the trial work?
The council has implemented this LTN using an experimental traffic management order. This means the measures can stay in place for up to 18 months. After at least 6 months the council will hold a consultation on the scheme and then make a decision if it is to be made permanent. During this period the council will take feedback on board to improve the scheme. This was seen in the Walworth LTN as modal filters were moved and changes made after engagement with residents, businesses and emergency services.
By implementing the scheme as a trial residents get to experience the low traffic neighbourhood before making the final decision. The trials have to be long enough for traffic to bed in. It takes time for drivers to get used to the changes and for GPS apps to update.
It's important to tell your councillors and cabinet members if you like your new LTN and ask your neighbours to do the same. Many people aren't aware this is a trial and think the changes are permanent while people opposed to the changes will be letting their views heard.
I'd like to learn more about the changes
The main changes in the area are planters being placed in three locations on Goldsmith Road, Marmont Street and Fenham Road. This will prevent motor traffic taking shortcuts through the neighbourhood.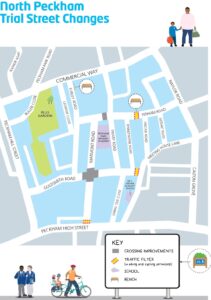 There are other changes that have not been installed yet but you'll see them soon.
Safer, more accessible crossings will be installed at the junctions of Goldsmith Road and Marmont Road and Fenham Road at Friary Road. There will also be new benches at the Fenham Road filter and at Furley Road near Commercial Way.
Parking has also been restricted near Peckham Park Primary Academy to allow for more space at the school gate as part of other Streetspace improvements from the council.
Do you live in this area and want these changes to stay? Connect with your local neighbourhood group by emailing at northpeckhamLTN@gmail.com!
Have you seen our flyer?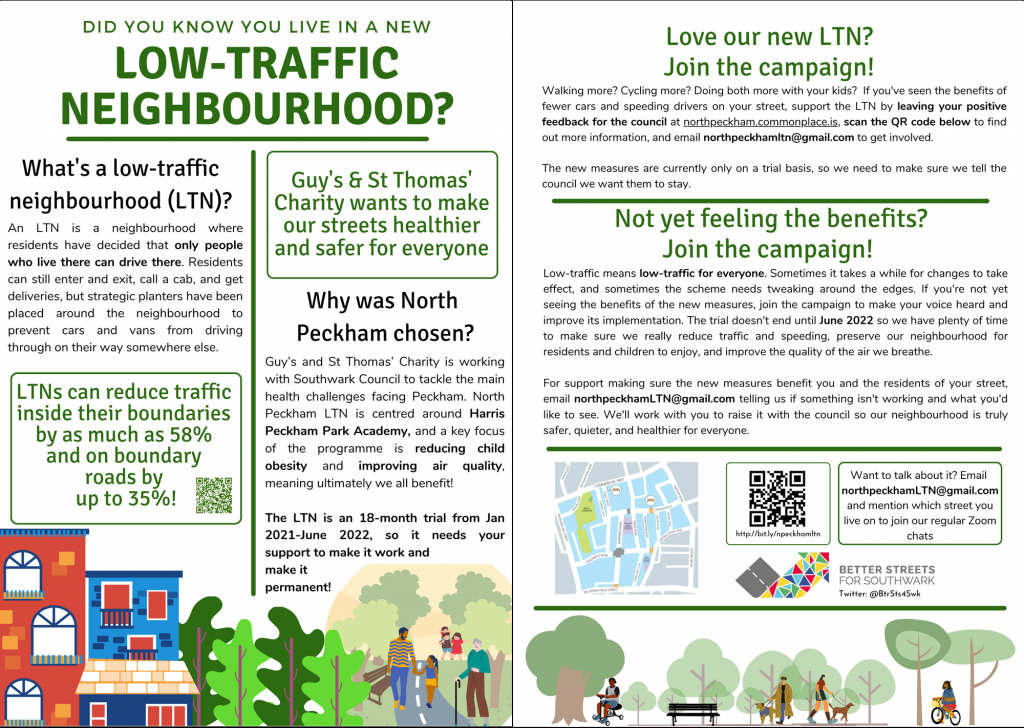 For more information about low traffic neighbourhoods, including links to data and studies, see our All About LTNs guide.
More LTN facts: